colored wigs
-
high quality colored wigs
Product Description

Lace front wig feature:

Occasion: Used for everyday use, Nature; comfortable, breathable, soft; durable, for costume, cosplay use as well

Lace: half hand tied front lace natural hairline transparent lace suitable for different skin tones

Color: red lace wig straight as pictures shown (Kind Reminder: Slightly Color Difference between Different Monitors)

Cap size: average size with adjustable strap instock

Length: 24inch long same length as pictures, straight texture

Density: density full wig

Material: Top Quality Heat Resistent Synthetic Fiber Wear this natural hair wig in parties or for daily use and show your beauty and confidence!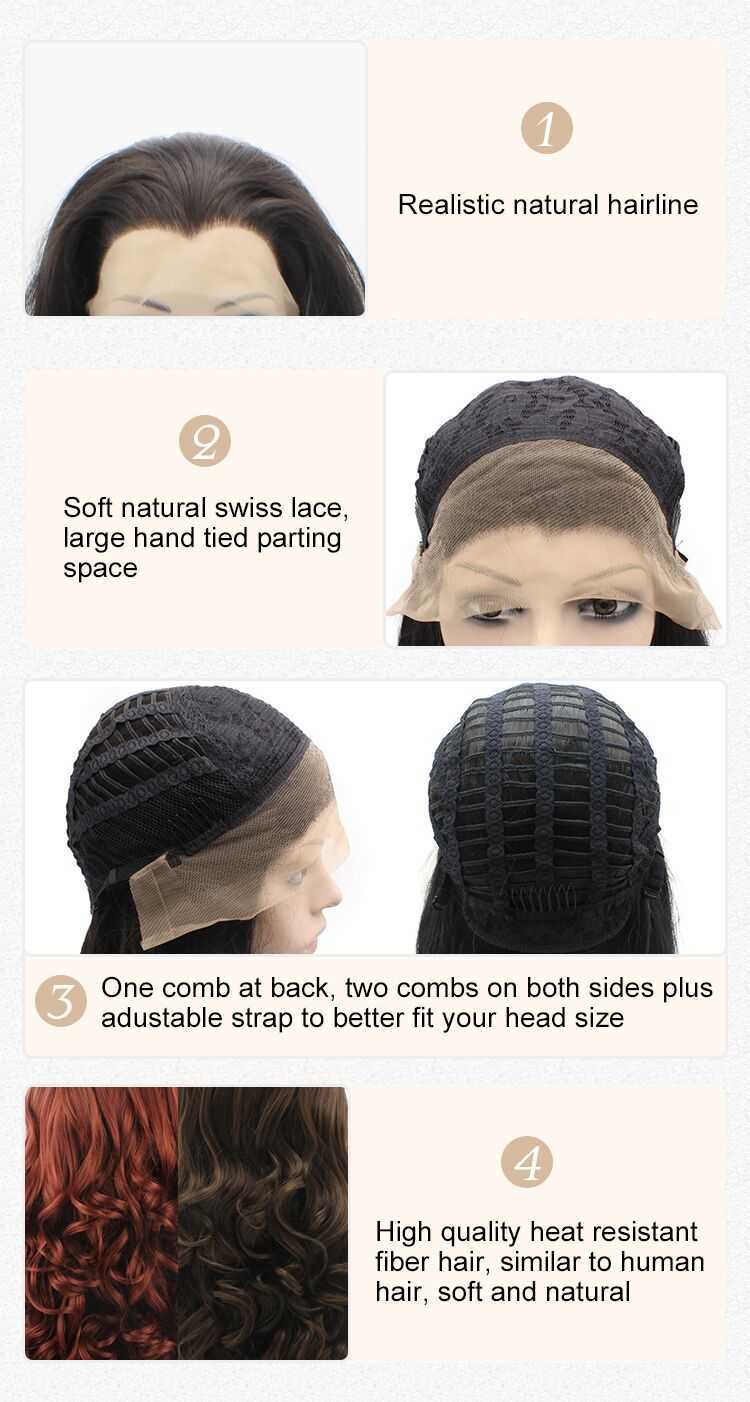 Tags: colored wigs, high quality colored wigs, long red wig, red lace front wig straight
If you want to know more products, we have: cheap drag queen wigs,extra long curly wigs,gray lace front wigs
ByMykaliaMonday, 08 April 2019
This is a great wig. I was a little nervous about ordering online, but the color is perfect and the adjustable elastic is perfect for tightening to any head.
ByMickySaturday, 02 March 2019
I love the look and the lace look really good have to brush it sometimes. Love the color.
ByCholeTuesday, 19 February 2019
I have an insanely small head, so I've been struggling to find a wig cap that isn't too big for me, and this one fit perfectly i can adjusted.I'm definitely purchasing another in the near future.
ByMeganThursday, 14 February 2019
The wig was thick and had a nice lace, also the color was so cute. I STOPPED THE SHOW WHEN I CAME THROUGH THE DOOR!!!!!!!!! I will definitely buy it again ALL COLORS!!!
ByDenise Tuesday, 05 February 2019
I love this hair and has gotten so many compliments on the color. I look so nice lol.
ByKristineSaturday, 02 February 2019
This is a great wig!Would definitely buy again. It has different head circumfrences, you can adjusted, I am 21 inches
ByPatienceWednesday, 02 January 2019
Love this wig! It's thick and the front looks really good. The hair isn't shiny or plastic looking. Very good quality for such an affordable price! 10/10 would recommend.
ByZoeThursday, 20 December 2018
This is my first wig I've ever bought and I'm absolutely in love with it. its not fake looking!
BySarahSaturday, 15 December 2018
This wig is BEAUTIFUL! It's actually crazy how soft it is for being synthetic hair. It's long, but it's not too thick like most synthetic wigs, so it looks like real hair!
ByBriannaMonday, 26 November 2018
Let me just say: I've never posted a review. I have over 10 synthetic lace front wigs and a few human hair wigs. This wig, for the price and the fact that it's synthetic.. all I can say is wow. The wig is amazing. I will be ordering again definitely.
ByMadisonWednesday, 21 November 2018
First lace front I've ever bought. Probably the best synthetic I've bought so far. Definitely worth the $.

Your cart is currently empty.