The Lure of Lace Wigs
Thursday, 27 February 2020

1

6911

0
First things first, lace wigs are a great alternative to traditional machine made wigs.
Whether full lace or just lace front, these lace cap wigs provide a solution to the question wig wearers often ask: How can I wear my wig in an up-do or ponytail without revealing the hair line…? OK we're probably speeding ahead, so let's start at the beginning.
These are wigs that they don't use the traditional style of cap that had machine made wefts attached to a wig cap that wouldn't allow the wearer to tie the wig up or back unless the hairline was concealed. Lace cap wigs have caps constructed from lace... French lace or Swiss lace to be more precise.
Individual strands of hair are hand tied (knotted) to the lace and when the lace is placed against the skin, it appears to "disappear". This means that when worn the hairs appear to be growing directly out of the scalp which provides a very natural looking hairline.
Now, since a picture can paint a thousand words, have a look at the images below to get a sense of what all of this means.
As the lace is so fine and individual hair strands are notted to the lace, when the wig is worn, it appears that the hair is growing right out of the wearer's head.
It's this illusion of authenticity that people really like about lace cap wigs.
You get to choose things like how thick the hair is and where it's parted so that you can match it to your growth hair for an undetectable look.
The versatility of these wigs doesn't end there, with you being able to choose the textures that you feel best suit you.
These wigs are an incredibly discreet solution for those who have lost part or all their hair.
These Perukes also provide a great solution for those who are having difficulty in growing their hair or as we term it, have an "uneasy relationship" with their own hair.
Lace? What Lace?
The nylon lace used in these wigs can either be French or Swiss, the latter being the more fragile lace due to its weave pattern (larger holes) but both are undetectable to the naked once placed on the skin.
To ensure the lace isn't detected, not only is it sheer but the lace also comes in different shades to suit the most palest and darkest of skin tones and everything in between...
"Hmmm, but how does the wig stay on your head?" We hear you ask. Ah well that would be by the use of specifically formulated wig adhesives that don't damage your hair or skin.
The short answer is no. These types of wigs have been used by theatres and the television industry for decades; it was only from the late 1990s that they crossed over from that arena into the world of singers, models and presenters alike... The great news is that lace cap wigs can be worn by anyone. Due to their discreet nature, lace front wigs are becoming more and more popular with general Peruke wearers, however because of the labour intensive nature of the wigs – each wig is hand tied not machine sewn – these wigs are priced higher than non-lace wigs.
The good news is that lace front wigs can last for up to a year if you follow a good lace wig maintenance regime, so they can actually be more affordable than getting micro-ring hair extensions every three months or hair weaving extensions every two months - we think that sounds like quite a good investment.


Up until now, lace Perukes have come mainly in four versions of remy or non-remy, Chinese, Indian, Malaysian and European.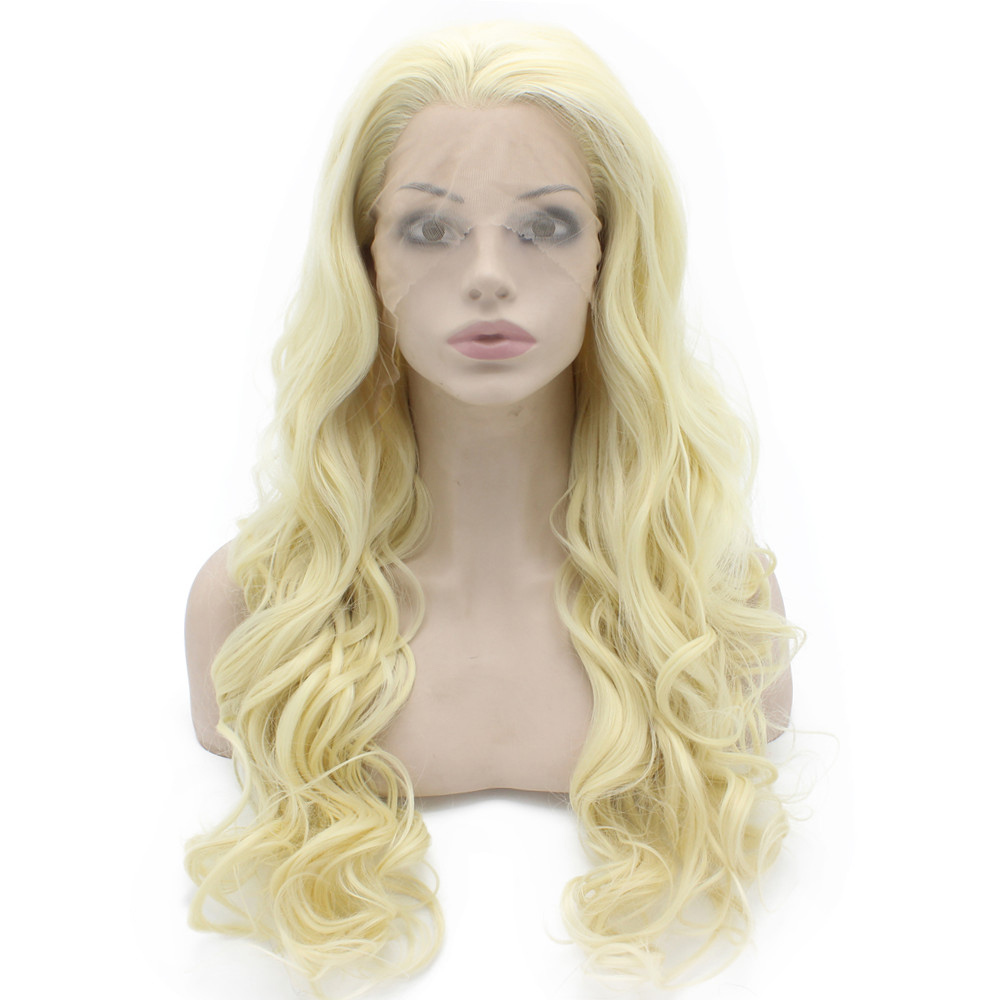 However quite a lot of folks prefer synthetic lace front wigs. These are wigs with synthetic hair fibres instead of human hair and they are available in a range of colours and textures.
Synthetic hair fibres have the advantage of retaining the texture in a way that human hair can't. However synthetic hair fibres also have the disadvantage of not necessarily being heat resistant.
Check, check and check again with your retailer to make sure whether your synthetic lace wig is heat resistant or not... and if it is, always, always, always use the lowest possible heat setting.

The last thing to mention here is that you can wear lace cap wigs in the same way non-wig wearers wear their ordinary hair; tied up, tied back and off the face as well as down.
The versatility of full lace wigs enables you to wear your lace Peruke in a high ponytail or even cornrows with the lace undetected and if that wasn't enough, this also means that when you wear it down, you can part the hair in any way you choose…
Now can you see why people really enjoy these wigs!

Your cart is currently empty.