Long Straight Brown Mix Natural Lace Front Hair Wig
4.91
stars, based on
11
reviews
Product Description

Lace front wig feature:

Occasion: Used for everyday use, Nature; comfortable, breathable, soft; durable, for costume, cosplay use as well

Lace: half hand tied front lace natural hairline transparent lace suitable for different skin tones

Color: brown mix lace front wig straight as pictures shown (Kind Reminder: Slightly Color Difference between Different Monitors)

Cap size: average size with adjustable strap instock

Length: 24inch long same length as pictures, straight texture

Density: density full wig

Material: Top Quality Heat Resistent Synthetic Fiber Wear this natural hair wig in parties or for daily use and show your beauty and confidence!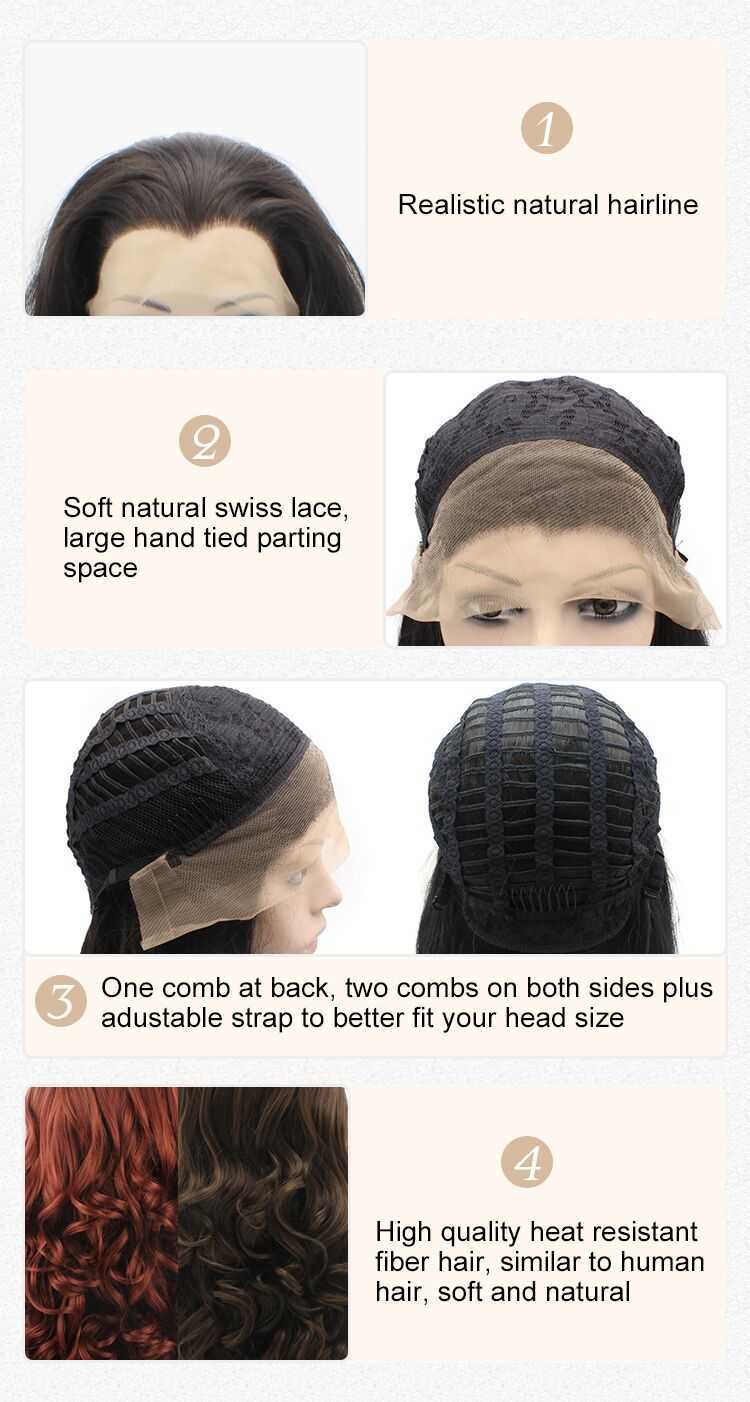 ByCristianeTuesday, 26 June 2018
This wig is great. The medium brown is so realistic, as is the texture of the hair. The only issue is the lace seems a little small on this wig, and by that I mean it doesn't extend completely down to my ears like the other wigs I've bought from this seller. Also, the hairline doesn't completely cover my actual hairline on the sides. But I've just played around with it so that that's less noticeable. Still an amazing wig overall. It hasn't tangled with me, which is a plus.
BysapphireMonday, 11 June 2018
I never write reviews, but I just had to for this purchase. Aside from being incredibly affordable for a lace-front wig (I'm used to paying $100+), the actual strands are very soft and barely tangle. I wear it every day to work without a cap underneath, and it looks so natural that everyone thinks it's my real hair. Probably good for about 4-5 weeks of daily use, including washing every other day. I definitely recommend!
BynatashaWednesday, 02 May 2018
This is so beautiful! No shedding, super soft, and beautifully made. I love the length and the color is exactly my real hair color. There is baby hair at the lace and the hair is very very believable looking. No shine whatsoever. No smell either. I can run my hands through the front of my head like I am pulling my bangs back and it looks real. I can put it behind my ears and it is still believable. I love this wig. I will be buying from them again! I can make my own part and I can put it half up and down. It truly looks like real hair!
ByRiveraFriday, 27 April 2018
ByRayelleMonday, 02 April 2018
First experience with a wig. It does not tangle. It is really natural looking, which is a need. I really love the color of it and the thickness of it. It's as long as it looks so make sure you're into that. It makes me feel great when I put it on. Would recommend 100%, if you don't get to frustrated with the curls. I might even buy a second one so I can play around with cutting and styling.
ByLaurenFriday, 02 March 2018
I just got it today and was absolutely amazed by how realistic it was. I got this wig for a character I do for my job (a zombie), so the fact it came super thick was absolutely perfect for styling, but I wouldn't recommend for regular use unless you pluck it. coloration, shine, and texture all looks/feels real! it feels like real hair!! amazing wig!!!
ByannaTuesday, 06 February 2018
I was very impressed with this wig, especially when considering how cheap it was compared to other lace fronts. The fibres are soft and don't tangle easily, although it did come with a slight case of bag hair that lead to a few crimped fibres and stray hairs. The colour is also accurate to the stock photo, a nice natural brown that isn't too shiny. Based upon the other reviews I thought it would be a bit poofy, but it had less volume than I was expecting. Fortunately, it was still nice and thick. Overall, I'm very happy with my purchase and would definitely recommend this wig. I've added photos of the wig under artificial light and flash, as well as some pictures of me wearing it.
BysherryTuesday, 06 February 2018
The hair line is a little weird so I do prefer to Cover it up but I'm sure some plucking would do just fine. Otherwise, the color, length, and texture are very realistic!! Love it so much and can't say enough good things about the brand. Never been disappointed.
ByCari BrownTuesday, 21 November 2017
I LOVE this wig! It's lightweight and cute! Looks WAY more real then I expected!! It does shed quite a bit. But for the 15.00 I'm going to buy more colors. It looked thin when I pulled it out but doesn't look like that when it's on. Love love love
BykirbySaturday, 11 November 2017
This wig is surprisingly good! I didn't expect it to be based on the price but it's better than some wigs I have bought in the past that were triple the price! I will definitely buy more wigs from seller!

Your cart is currently empty.