Very Long Silver Grey Straight Wig
4.91
stars, based on
11
reviews
Length is always dependent on what you're going for, it's true. If you want to really explore the world that focuses entirely on length — without compromising professionalism — you've got yourself the right white blonde straight wig. With subtle tones of grey in combination with a white platinum blonde, this fantastic long wig is fun to style however you determine to be the best choice. The straight design is durable and perfect for designing into whatever fancy style you want done. Best of all, the lace front closure is designed to be comfortable, reliable and made to offer up a chafe-free and comfortable fit for long-term wear.
•Made with top-quality, heat resistant synthetic fiber

•Transparent lace suitable for different skin tones

•Adjustable strap to fit different head sizes

•Straight texture

•White blonde color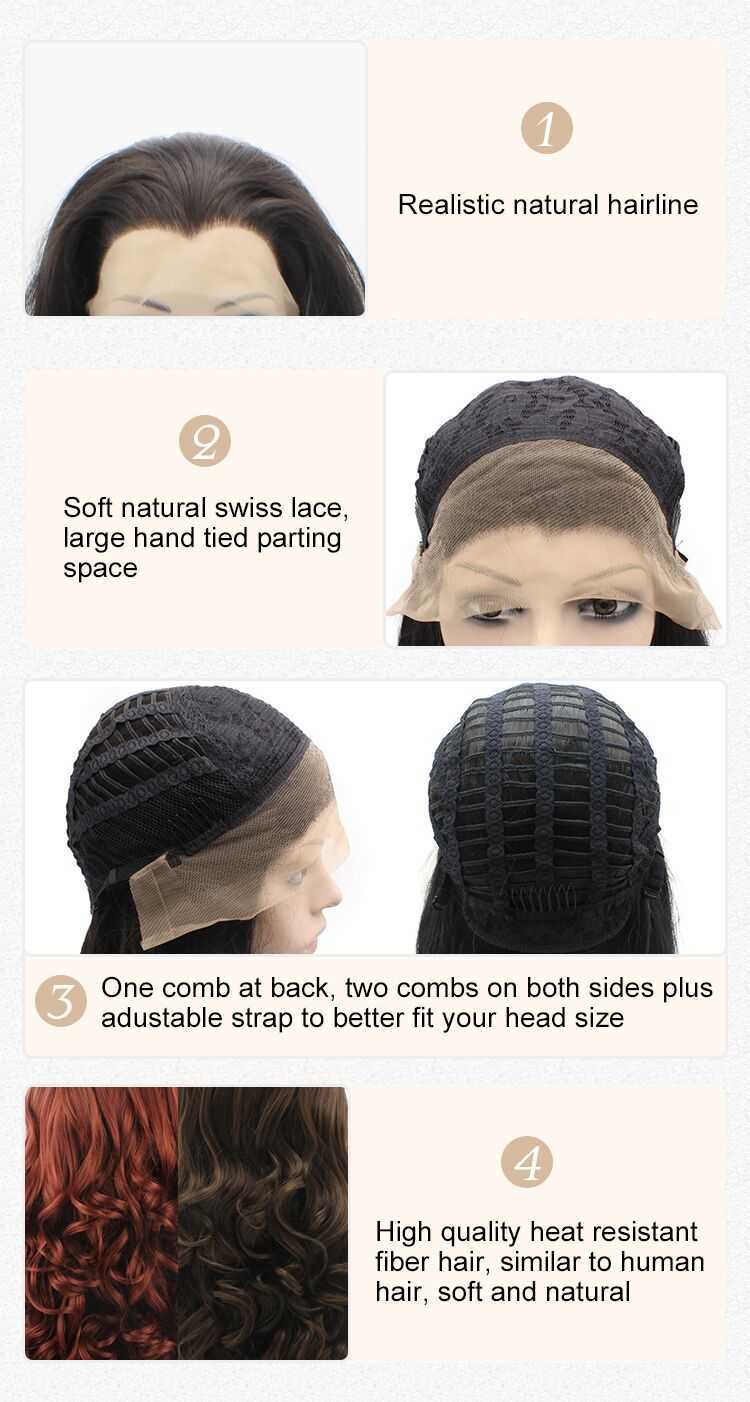 ByAsella IpangelwaMonday, 22 October 2018
Good quality for the price , shipping was fast is took 4 days and the communication with the seller is just amazing , he is such a nice person , I definitely recommend this store and the product is accurate.
ByLaidy RueTuesday, 16 October 2018
I seldom write reviews but I had to for this one. I just installed this hair yesterday and I literally fell in love with it and got so many compliments... first off the seller was very attentive they answered all my questions before I ordered and responded back right away. This hair is exactly what I expected and I love that I didn't really have to pluck the edges at all. I did darken the lace a bit more than to match my complexion but overall this hair is so pretty and looks natural on me, i'm excited to style it more !!❤❤❤
ByAnnick MashabaThursday, 11 October 2018
Ordered my hair on Monday and recieved it yesterday, i must say im very impressed with the shipping and also the hair feels amazing. it came with 2 wig caps can't wait to style it and etc will definitely be ordering again soon thanks loves
ByShayTee GideonMonday, 08 October 2018
I've had the hair for two weeks now and I am loving it.
ByDastile OmuhleMonday, 24 September 2018
More than expected!! This is my first lace wig and I love it! Had a little smell but a good wash with my Cantu products fixed it right on up. Very soft and full. VERY MINIMAL shedding probably due to the wash other than that I love it can't wait to wear for my bday!!!! It came in like two days also.
ByIsabelle BellaMonday, 10 September 2018
So far so good I Just received my here today, very fast shipping!! I received complementary gifts a wig cap and I received a nice thank you letter really appreciate it, I had ordered my hair Friday and it came today Tuesday like that's like the best shipping ever, also this is my first time ordering a wig from this vendor and so far I am loving it , I got a Long Straight Gray Blonde wig from this vendor and it's just amazing. Definitely will order again.
ByPro QueenSaturday, 01 September 2018
Super soft, beautiful straight wigs! Delivery came in 4 days, love the packaging with a gift and two wig caps (even though it's not the right color). I conditioned then deep conditioned the hair, minimal shedding. Overall great hair and good communication with the vendor.
ByKuziva ChechaThursday, 23 August 2018
I love this hair and the wig! It looks great when wet and the lace front blends very well! The seller was very sweet and professional. I received the hair within 3 days! I will definitely be shopping with this vendor again!
BySonia VeriscaTuesday, 24 July 2018
I love this hair, it has an great texture and it fits my face structure well
ByGlory CarrierThursday, 28 June 2018
I gave this wig a four star because it does dry out fast and sheds a bit i have to wet the hair every time i wear it to give it life again. But over all i recommend this wig because it's full and soft! It was pre plucked all i had to do was blend and install the unit to my liking! I order the wig Tuesday it came Friday! Fast delivery and the vendor kept in touch! Awesome wigs for beginners as well. Will order again.
BySuzen MokheleTuesday, 06 March 2018
This hair is so soft and wonderful! The delivery was fast and the vendor updated me at each step. I definitely recommend it. 5 stars for sur :)

Your cart is currently empty.